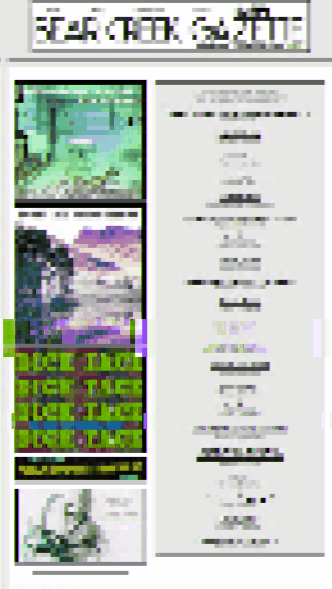 Matt McGuirk teaches and lives with his family in New Hampshire. BOTN 2021 nominee with words in various lit mags and a debut collection with Alien Buddha Press called Daydreams, Obsessions, Realities available on Amazon and linked on his website.
Website: http://linktr.ee/McGuirkMatthew
Twitter: @McguirkMatthew Instagram: @mcguirk_matthew.
​
JP Vallières wrote the dystopian love novel, The Ketchup Factory. Find out more at jpvallieres.com.
b. m. tarver is an emerging writer from Los Angeles spurred on by the panic of aging out of his twenties. He spells his first name with a "y" and takes that very seriously. Someday soon, he thinks he'll be happy. Tell him it's possible on Twitter @tarveydent.
​
Jared Schwartz is a writer from New York and a student at Brown University. His work has been published or is forthcoming in North Dakota Quarterly, Glassworks, Anthropocene, and Rejection Letters, among others. In addition to writing, he plays the bass guitar and occasionally records music. He can be found on Twitter or Instagram @jschwartzpoetry
​
Sean M.F. Sullivan writes from Colorado. His fiction has appeared online and offline. His website is https://seanmfsullivan.com and he can be found on Twitter @seanmfsullivan.
​
Katy Naylor loves camping out even when it means coming snout to snout with hellhounds. She has other campfire stories in places including Expat Press and Misery Tourism. Her chapbook, Postcards from Ragnarok (Alien Buddha Press 2021) is out now. Find her on twitter @voidskrawl. Katy is also EIC of interactive arts loft space @voidspace_zine, a corner of which she has smuggled into Bear Creek under the auspices of 'publishing' a 'piece of interactive fiction'. Ssssh.
​
Steven Patchett is in the grip of a midlife crisis. As he can't grow a ponytail, can't ride a motorbike and already has tattoos, he took up writing instead. @Stevenpatchett7
​
Paulette is a queer Pittsburgh-based writer currently querying their first novel and trying to beat their record for most consecutive days spent on the couch in a plaid robe with a cat on their lap. Their work has appeared in Maudlin House, SFWP, and Anti-Heroin Chic. They can be found wasting time on Twitter as @GrannyRocko.
​
Jesse Hilson is a freelance newspaper reporter and cartoonist living in the Catskills in New York State. Writing: AZURE, Maudlin House, Misery Tourism, ExPat Press, Apocalypse Confidential, Fugitives & Futurists, and elsewhere. Comics: Misery Tourism, Excuse Me Mag, and the Gorko Gazette. Handcuffing the Venus De Milo (poetry chapbook) will be published by Alien Buddha Press and Blood Trip (a novel) will be published by Close to the Bone. He can be reached on Twitter and Instagram at @platelet60 and via email at platelet60@gmail.com. His substack is at cholorohemoglobin.substack.com.
​
Matt is a pedestrian
​
David is the Vipper of Vipp elect. He writes and occasionally publishes. You may (soon and now) read his fictions in BULL, X-R-A-Y Lit, Maudlin House, HAD, Misery Tourism, and others. He's got an MFA from Old Dominion University and has written unpublished novels and an unproduced screenplay. Catch a rare tweet @williamsonism.
​
Alex Penland is a former museum kid. They're currently working on a PhD at the University of Edinburgh, but prior adventures include field research with the Smithsonian and NASA, founding and volunteering with various literary enterprises, and conlanging. Their work has been internationally published in The Midwest Review, Orion's Belt, and through Flame Tree Press.
​
Madilyne Igleheart is a writer from the Midwest.
​
Gabriel Hart's legal address is in California's High-Desert. His literary-pulp collection Fallout From Our Asphalt Hell is out now and his new poetry book Hymns From the Whipping Post is out in March 2022, both from Close to the Bone (U.K.). He's a co-conspirator at The Last Estate.
​
AN Grace lives in Liverpool, England. His work has appeared or is forthcoming in Queen's Quarterly, Young Magazine, Sein und Werden, The Racket, Haight Ashbury Literary Journal and others.
​
Colin Gee (@ColinMGee) is founder and editor of The Gorko Gazette (@GorkoThe), a humor daily that publishes headlines, cartoons, reviews, and poetry. Fiction in Misery Tourism, Expat Lit, A Thin Slice of Anxiety, and elsewhere.
​
Aaron Wiegert has published two chapbooks "Evil Queen" and "The Last Railroad Spike" with Budget Press. His work has also been published in: Poetry Salzburg Review, Tulane Review, The South Carolina Review, Pacific Review, and Meat for Tea, but the Bear Creek Gazette is by far his favorite of them all.
​
Michael Bettendorf (He/him) is a 2021 BOTN & BSF nominee whose work has appeared here and there on the internet/in print. He lives in Lincoln with his dog and partner where he tries to convince the world Nebraska is too strange to be flyover country. You can find him on Twitter @BeardedBetts.
Michael Grant Smith wears sleeveless T-shirts, weather permitting. His writing appears in elimae, The Cabinet of Heed, Ellipsis Zine, Spelk, Bending Genres, MoonPark Review, Okay Donkey, trampset, Tiny Molecules, New World Writing, and elsewhere. Michael resides in Ohio. He has traveled to Hong Kong, Shanghai, and Cincinnati. For more Michael, please visit www.michaelgrantsmith.com and @MGSatMGScom.
If you can find Evelyn Winters she will read your future. For free.
Matthew Pritt is the author of The Supes. His work has appeared in Star*Line magazine and FIELD NOTES FROM A NIGHTMARE from Dread Stone Press. He lives in West Virginia with five cats and you can see pictures of them on his Twitter @MatthewTPritt.
Drew James is a warehouse worker and writer in Asheville, North Carolina. He does not own a giant vicious crab. On an unrelated note, his writing has appeared in Lucent Dreaming Magazine, Jokes Review, and some other places.
Richie Zaborowske is a dad, librarian, and author from the Midwest. His writing is forthcoming or appears in McSweeney's Internet Tendency, The Los Angeles Review, Barstow and Grand, Cowboy Jamboree, and others.
Arden Hunter is an ND aroace agender writer, artist and performer who has words, audio and art hosted and upcoming with Full House Literary Magazine, Fifth Wheel Press and Kissing Dynamite among other places. They have two books of experimental visual poetry coming out later this year, 'Drifting Bottles' through Gutslut Press and 'Stop Fidgeting' through Perth Underground Press. Find Arden on Twitter @hunterarden, Instagram @thegardenofarden and at ardenhunter.com.
Elizabeth H. Turner's work has been published in journals including Cutbank, Fairy Tale Review, Gulf Coast, Lost Balloon, and Twin Pies Literary. Her work has been selected for inclusion in Best Small Fictions and Wigleaf's Top 50 in 2021. Her chapbook, The Tales of Flaxie Char, was published through dancing girl press. She lives in San Francisco and can be found online: @lhornert
Lindy Biller is a writer based in the Midwest. Her fiction has recently appeared in Milk Candy Review, Pidgeonholes, Reservoir Road, and Flyover Country. She has a small jade plant that is, at time of writing, still alive.

Eric Burgoyne is a writing and surfing grandpa living on the North Shore of Oahu, Hawaii. He has an MA in Creative Writing - Poetry, from Teesside University, Middlesbrough England, and MBA from University of Reading, Berkshire, England. His poems have been published in The Dawntreader, Spillwords, Sledgehammer, Skink Beat Review, Rat's Ass Review, and elsewhere.
Kjetil Jansen is from Norway. He knows the fifty-two cards in a deck of cards by heart. He has featured in Bewildering Stories, Rainfall Chapbooks, and Isbjørnbekk Tidende.
Born with a decidedly different name and assigned gender near Saint Louis, Missouri, Sarah picked up a pen at the age of eight and drew her first comic book, and–despite the world's valiant attempts to stop her–that's more or less what she's been doing since. In her long and award-winning career, she has written multiple books and records, been featured in several anthologies, and worked on creative projects for clients, labels, and publishers around the world. Her work can be found in multiple public and private collections, most of which are still standing. When she's not busy plowing away at her drawing board, singing dirges in the moonlight, or wandering throughout the United States, she can often be found tending to her flowers, cooking, working out, painting, or floating above the coast at midnight, waiting for the tide to wrap her in its loving embrace and take her away. She currently resides in Colorado with her service dog Polyhymnia; although, as with everything else in life, this is subject to change. You can visit her wherever you are at http://sarahallenreed.com
​
Autumn tries to sleep and instead writes. Twitter: @AutumnRedacted
​
James C. Holland is a perfectly normal human being and definitely NOT the facsimile of a man created by an invading plant species. So that's one less thing to worry about. He has written and performed two solo shows at the Edinburgh Festival: Choose Your Own Edventure (interactive storytelling) and Shoegazing (introverted stand-up), collaborated with artist Chris Hagan in Brighton: The Graphic Novel (Queenspark Books) and written various fourth-wall-breaking short plays and sketches for Cast Iron Theatre. Fellow non-murderous-sentient-plants can find him on Twitter at @james_c_holland and read his under-updated blog at www.jamescholland.com
​
Jeremy Scott (he/him) is from Albany, Georgia. He is @possiblyarhino on Twitter. His poetry has been published or is forthcoming from All Guts No Glory, Selcouth Station, Fifth Wheel Press, Angel Rust, and others.
​
Zora Graves is a weather and shipping consultant for the Bear Creek Gazette, whose other pursuits include unlicensed crime scene investigation and independent pop music. The only known way to contact Zora is through Karter Mycroft, on twitter @kartermycroft.
​
Phoebe Smith is from the Isle of Coll in Scotland, a place where the wind blows both high and low. She writes from a dripping but hospitable cave in her mind.
​
​
​
​