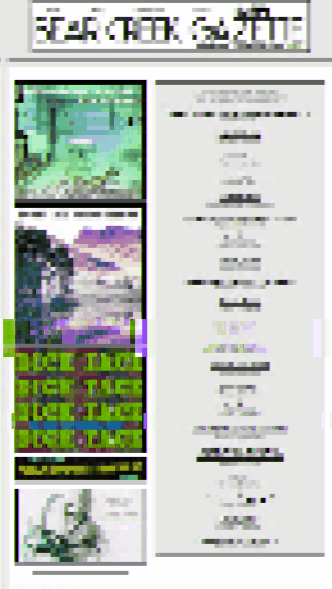 Rick Hollon (they/them or fey/fem) is a nonbinary queer author from the American Midwest. Feir work has appeared or is forthcoming in Kaleidotrope, Prismatica, Hyphenpunk, perhappened, the HELL IS REAL anthology, and other places. Find them on Twitter @SailorTheia, or visit their website: mimulus.weebly.com
​
Katy Naylor lives by the sea, in a little town on the south coast of England. She has written stories about gutters, worms, hellhounds and now poo. She regrets nothing. Find her online at voidskrawl.uk or on twitter @voidskrawl
​
Gabriel Hart is an author, poet, musician, and creative reporter from California's High Desert. Other works can be found. Currently squatting at The Last Estate.
Scott Mitchel May is a guy doing things like writing and skating and going to therapy and working and submitting and also too he enjoys reading and cooking and classic cars (but in a vague way where he's never owned a classic car) and punk rock and hardcore hip-hop. He loves his wife.
​
JP Relph is a writer from Northwest England whose writing journey began in 2021 with Writers HQ and is mostly hindered by four dickheaded cats and aided by copious tea. She loves zombies, murder programmes, dinosaurs and Marvel and has a dogged determination to make people laugh. Her words can be found in The Fantastic Other, Splonk, Sledgehammer, Full House Literary and others.
​
D.G. Reynolds is a writer from Dublin, Ireland. Their work has appeared in Overland Literary
Journal, Little Old Lady Comedy, and Mad Scientist Journal.
​
Derek Maine lives in North Carolina with his family. His debut novel, Characters, comes out in 2022 on Expat Press.
​
Zary Fekete has worked as a teacher in Hungary, Moldova, Romania, China, and Cambodia. They currently live and work as a writer in Minnesota. They have previously been published in Goats Milk Mag, Shady Grove Literary, Journal of Expressive Writing, Ginosko Literary Journal, SIC Journal, Reflex Fiction, Potato Soup Journal, Cholla Needles, Rabid Oak, Every Day Fiction, and WINK. They enjoy reading, podcasts, and long, slow films.
​
Drew Buxton is a writer and social worker from Texas. His work has been featured in Joyland, Hobart, Vice, and Vol. 1 Brooklyn among other publications. He will be featured in the 2022 Short Story Advent Calendar from Hingston and Olsen. He's an editorial assistant with Ninth Letter. Find him at drewbuxton.com and on Twitter @doastories.
​
Lucy Goldring is a Northerner in Bristol, UK. She's been shortlisted by the National Flash Fiction Day (NFFD) three times and twice selected for their anthology. In 2020, Lucy won Lunate Fiction's July flash competition and was nominated for Best Small Fictions by both NFFD and 100 Word Story. Lucy has a story forthcoming in Best Microfiction 2022. She distracts herself from climate angsting by watching an unhealthy volume of North American sitcom. @livingallover livingallover.com
​
Hugh Dufour lives in Montreal and loves haiku, Thelonious Monk, and velvet paintings of Flamenco dancers. He's had stories published in Vol.1 Brooklyn, The Literary Nest, FreedomFiction, Criteres, Bertrand Dumont Editions, Les Ecrits des Forges, and when he's not dabbling in bad painting or horrible cooking, he thinks that finding the rational beings that can come to the unitive knowledge of the divine Ground of well-tended lawns is an essential part of life
​
Sarah Royston's writing is inspired by myth, folklore and the natural world. Her poetry and short fictions are published in Full House Lit, Noctivagant Press, Retreat West and The Hyacinth Review. This is her first story about a giant severed penis falling from space.
Josh Philpott (b.1994, UK) works across sculpture, drawing, poetry, and sound art. His main interests include psychogeography, absurdism, and midwestern-emo […] he doesn't make paintings or sculptures from his evacuated viscera, as each expulsion is already an artwork, precious unto itself. He graduated from Camberwell College of Art and has exhibited widely.
​
Born with a decidedly different name and assigned gender near Saint Louis, Missouri, Sarah picked up a pen at the age of eight and drew her first comic book, and–despite the world's valiant attempts to stop her–that's more or less what she's been doing since. In her long and award-winning career, she has written multiple books and records, been featured in several anthologies, and worked on creative projects for clients, labels, and publishers around the world. Her work can be found in multiple public and private collections, most of which are still standing. When she's not busy plowing away at her drawing board, singing dirges in the moonlight, or wandering throughout the United States, she can often be found tending to her flowers, cooking, working out, painting, or floating above the coast at midnight, waiting for the tide to wrap her in its loving embrace and take her away. She currently resides in Colorado with her service dog Polyhymnia; although, as with everything else in life, this is subject to change. You can visit her wherever you are at http://sarahallenreed.com
​
Autumn tries to sleep and instead writes. Twitter: @AutumnRedacted
​
Tarver Nova is a spec-fic writer and professional night owl in New York. His stories are found in Kaleidotrope and Daily Science Fiction. Find him at tarvernova.com or show him your cats on Twitter @tarvernova.
​
Michael Rodman's writing, including poetry and satire, has appeared in Talking River Review, MAD Magazine, McSweeney's Internet Tendency, Oddfellow, and elsewhere. His poem "Document (Undocumented)" was winner of the 2019 Oscar Wilde Poetry Award from Gival Press, and his work has also been adapted and presented onstage by Lively Productions in New York City. His hobbies include documenting anachronistic typography in period movies.
​
Zora Graves is a weather and shipping consultant for the Bear Creek Gazette, whose other pursuits include unlicensed crime scene investigation and independent pop music. The only known way to contact Zora is through Karter Mycroft, on twitter @kartermycroft.
​
Rachel Handley is a queer disabled fiction writer, poet, and academic based in Dublin, Ireland. Their work has been published by The Liminal Review, Arlen House, Dreich, 365 Tomorrows, The Madrigal Press, Ellipsis Zine, Full House Literary, and Sonder Magazine. They have work forthcoming in Ink Drinkers, Tree and Stone Magazine, Eunoia Review, and Martian Magazine. Their debut collection of short stories, Possible Worlds and Other Stories, will be published by Ellipsis Imprints in September 2022.
​
Rob White is a Canadian-based award-winning filmmaker and part-time author
​
​